← Back
Yungblud is the freak of our times who doesn't give a fuck about homologation - Concert Review
n the 1970s, a young person who rebelled against the established ways of behaving and acted unconventionally was called a freak. Yungblud knows something about it, but more importantly, he has become its undisputed spokesman. His is a story worth telling, and one that can be traced back to rural Yorkshire. Born and raised in a family of musicians influenced by Bob Dylan, the Beatles, and the Clash, he has demonstrated since his debut his ability to combine very different narrative styles and musical genres, demonstrating his chameleon-like nature. During the live show at the Forum in Milan - where I rediscovered the beauty of pogoing as I had not done in years - the rock matrix of his songs is certainly predominant, but there is also plenty of room for more punk, pop, alternative, and hip-hop forays. Yungblud cannot be pigeonholed, defined, or labeled, and perhaps that is why he appeals to such a wide audience. He knows how to speak to his generation, making himself its spokesman and inviting his audience to respect two fundamental rules of his artistic constitution. "During my shows, I want everyone in the audience to be treated with love and fucking respect. Take care of each other," he shouts to the eleven thousand people in the Forum.
Then there's mental health, another central theme in the life and career of the British singer-songwriter, who has faced major demons in the past, from anxiety attacks to bullying, depression, and suicide attempts. In an interview with NME, he once said: "If you know Yungblud, the music is secondary. I don't give a shit about hit records. I'm only interested in a culture, like the Stone Roses or Green Day, where I go on stage and we come together because we're part of each other's lives. That's what it's all about, connecting with people. If I don't do that, I die. If I don't, I'll want to kill myself again. I know it's bullshit, that we all have this codependency, but that's the way it is. I am like them, as they are like me." He reiterates this with conviction in one of the visuals accompanying the concert narrative - which begins with "21st Century Liability" and ends with "Loser", sandwiched between all his greatest hits and a cover of Machine Gun Kelly. The centrality of being able to ask for help, to reach out to others, and to find the strength to respond in the knowledge that you are never really alone is at the heart of everything the Doncaster musician writes, composes, and produces. At the same time, it is perhaps something far greater and more complex to describe in words, for it encompasses legions of fans who see themselves in him, in his way of being, living, and communicating.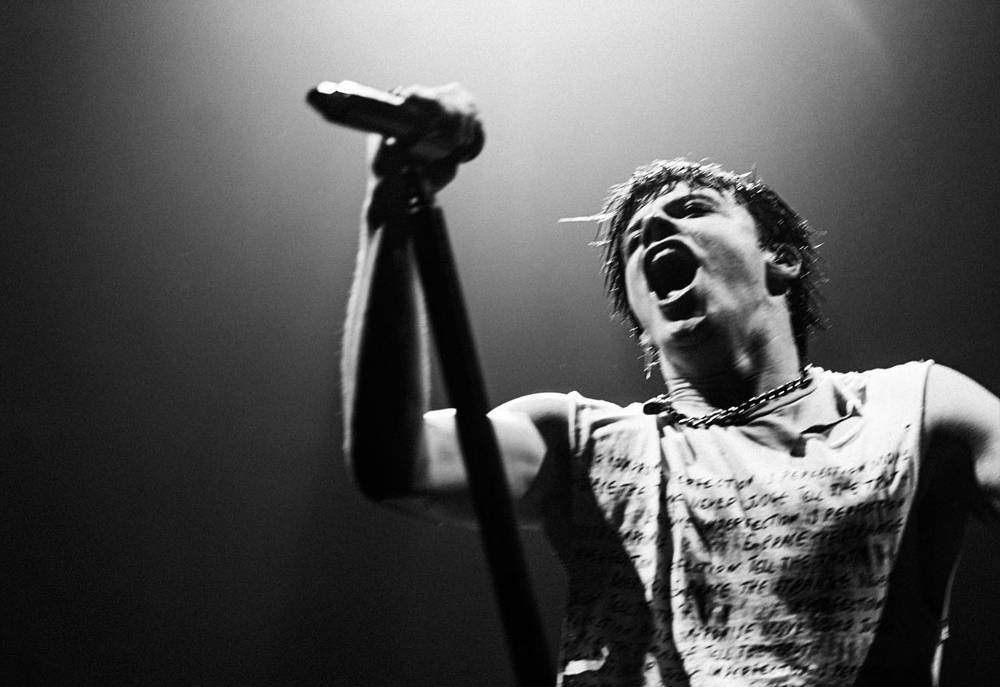 Yungblud is not the conventional pop star we are used to dealing with. With a rebellious exterior that hides a huge heart and an equally sensitive and delicate soul, he has chosen music as a means of confessing his less pleasant, rougher, and harder-to-digest sides. Those who listen to music in 2023 are tired of perceiving an artist as a container of banal arguments and sounds. They're looking for the quid to prove that the dogmas of the contemporary music industry have changed, and Dominic Harrison - that's his real name - seems to have managed to shake them all up. The songs he brings to the stage are therapeutic, a punch in the gut, a hymn to freedom of expression, a necessary and imperative cry that echoes through the walls of the Forum as if everything was about to implode. Among the three thousand people on the Forum's ground floor, there is a guy who calls him the new prophet of music. And he may be right. On the other hand, what remains when the curtain closes is a deeply symbolic message. A sincere encouragement to society's outcasts, the misunderstood, and the marginalized. The same fleabags he sings about in one of his songs.

Words: Alessia Bisini
 
Disclaimer: The original version of this concert review appeared on the Italian publication HeyJude Magazine on March 11th 2023.